Calendar Rolls
---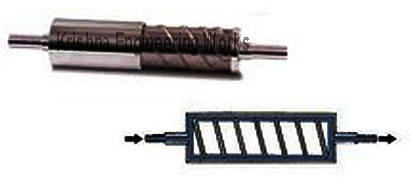 Our rolls are manufactured to comply exactly with customers' specifications. They are designed and produced in close cooperation with the end user.
In the calendering process, precision rolls are used in order to guarantee that the final product has optimum properties. The rolls used for these purposes must meet extremely high standards. Calender rolls of maximum precision with respect to geometry, runout and surface finish are supplied for use in your continuous duty application.
We can offer rolls made from various materials:
      Chilled cast iron (single poured)
      Chilled cast iron with nodular cast iron core (compound casting)
      Grey cast iron
      High chrome-alloy special cast iron
Our rolls are manufactured using modern CNC machines at all manufacturing stages, maximum precision is guaranteed with respect to cylindricity, roundness, concentricity and surface quality. Besides cylindrical barrel grinding all types of crowns, as well as special roll profiles, are possible. Rolls can be furnished with a matt, engraved or corrugated finish.
Using oil or water heating systems, roll grinding temperatures of up to 300 -C can be achieved. This ensures maximum precision for the roll when it is heated up to operation temperature.  Our expertise, which is the result of continuous research and development in the field of superfinishing, even allows us to produce rolls with a flawless mirror finish.