EPDM Rubber Roller
---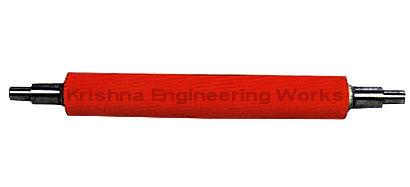 EPDM Rubber Roller
EPDM Rubber Roller is the most commonly used wrinkle remover device. It mainly consists of bowed shaft, metal segments, sealed ball bearings, abrasion resistant, rubber sleeve etc.
We can manufacture EPDM Rubber Roller of any specification and we assure that all our rollers are made to satisfy your printing needs. For dedicated UV / EB printing, special EPDM Rollers compounds are offered by us. The special compounds were developed, keeping in mind, to resolve the problems like swelling, shrinking and/or stickiness associated with the use of conventional rubber compounds in UV/EB printing.
EPDM rollers new compounds are available of great high quality, and generally non stretch reinforced rubber is used of fine quality raw material that is often non-toxic and harmless with bright lustrous printing. EPDM rollers are available in wide and genuine variety to choose from with full after sale service guaranteed.
EPDM Rubber Rollers We are engaged in manufacturing, exporting and supplying a wide range of EPDM Rubber Rollers, Rubber Roller. These EPDM rubber rollers are widely made from very high quality raw material which ensures high durability at its user end. These EPDM rubber rollers are widely finds its applications in various industrial sectors. We perform various performance tests before sending the consignment for packaging.
Avail from us EPDM Rubber Rollers manufactured using superior grade raw material. The EPDM Rubber Rollers are efficiently tested to ensure exceptional resilience and performance. The EPDM Rubber Roller is manufactured as per current market standard. We have established a reputable name as a reliable Manufacturer and Supplier of EPDM Rubber Rollers in the industry.
Features:
      Rust free
      Highly durable
      Excellent strength
      On time delivery
      Supreme quality
Specifications:
      Hardness from 45o to 85o share A.
      Length 50mm to 5500mm Alluminium roll
      Diameter 50mm to 800mm